It Was Not Only Economy; Three Love Stories
Thomas Boynton -- he gave it all up for Alice.
Marriage and family was economy. When marriages were arranged they were arranged with one eye on the wealth and prestige that would result in joining the two families. In six hundred years of Boynton history there are many marriages; frequently there was a second and third marriage as one person outlived his or her partners [A Boynton Story: The Tangled Web of Castle Leavington]. And it is reasonably easy to spot how marriages were important in moving wealth into and between families [A Boynton Story: Marrying Well]. Love stories are much harder to trace. A documentary trail is quite exceptional for love stories. So, in the six hundred years we know only three love stories, and our knowledge is based only on snippets of evidence. Thomas and Alice is one of those love stories.
Thomas Boynton, he gave it all up to move in with Alice. Thomas had a lot to give up. He was born at Barmston about 1523 on the land his great grandmother, Margaret del See, had added to the Boynton fortune. It was a wonderful place to grow up; right on the seashore -- with high bluffs and wide beaches. It was only a short walk from the manor house to the seashore. This is a twentieth century version of what Thomas, as a boy, must have enjoyed in the sixteenth century.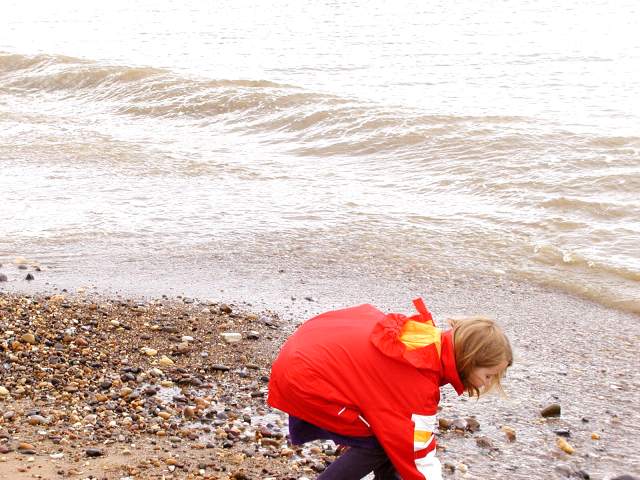 Anna Bassett Boynton at Barmston Beach
Thomas was one of the richest men in Yorkshire; his land holdings were among the ten largest in the East Riding [English, p. 16]. He had spent much of his life in public service: he served several terms on the Commission of Peace; he had been High Sheriff; he served as a Member of Parliament; and he served on the Council of the North. In addition, he served a variety of commissions for the king and then the queen. And then he gave it up. In 1573 he left the management of the family fortune and the family manor to his son and moved to Westmoreland to live with Alice. He stayed on the Council of the North and he served two commissions for the Queen, but he reduced his public service. He went into semi-retirement, and married for the third and last time.
Alice was Alice Tempest Place Strickland Boynton. She was a wealthy widow with two small children and a castle -- compliments of Walter Strickland, her second husband. Sizergh Castle was the Strickland family castle, and it was almost as far west in northern England as Barmston was east. Walter moved from one side of the land to the other to join Alice.
It seems clear that economy was not involved in this marriage. Both were wealthy. Thomas Boynton's heir, his son Francis, inherited the Boynton land when Thomas died. And Thomas Strickland, the heir of Alice's second husband Walter, inherited the Strickland land. Economy does not seem to account for the union.
So, what did they do? Thomas moved to Sizergh Castle and helped raise the Strickland children. Thomas Strickland was only 11 when Alice married Thomas Boynton and he was the oldest child.
This is Sizergh Castle when Thomas moved in. It has changed over the centuries, but this drawing is old enough to reflect what he was moving into. It is three stories in the main section of the castle -- a ground floor and a first and second floor.
They raised children, and they redecorated. Their bedroom became the Boynton Room, and remains the Boynton Room today. A distinctive feature of the Boynton room is the the carving over the fireplace -- the overmantle -- that has the arms of the Boyntons impaling the arms of the Tempests and topped with a horned grotesque representing the Boynton crest of a goat.
The picture on the left is much of the overmantle in the Boynton Room, but it is too small to identify the Boynton arms. The picture on the right is a slice of the picture on the left. The Boynton arms -- crescents and fess -- are in the top, left hand quadrant.
And they put together a room called the Inlaid Room.
This magnificent state bedchamber is the culmination in the Elizabethan work at Sizergh. Between about 1575 and the mid-1580s it was fitted out with elaborate plasterwork and the inlaid oak panelling from which it takes its name, for Alice Strickland and her third husband, Sir Thomas Boynton. Complete with its domed and arcaded corner porch, heraldic glass, and carved and inlaid state bed, the room would always have been the showpiece of the house, reserved for honoured guests [The National Trust, p. 26].
It is a very elaborate room. Just the ceiling of the room, which is plaster with a pattern that incorporates the crests of the families important in Sizergh history, must have taken much time to plan. There is also the panelling. And the furniture. They could have spent many hours dreaming about how to remodel.
By remodeling the Boynton Room and the Inlaid Chamber they made a considerable change in the second floor. There are only two other rooms on the floor, in addition to passage ways.
And that was fulfillment enough. Thomas died in 1583. Alice did not remarry, and died in 1588.
Matthew and Francis is the second love story. Matthew wrote about Frances: "The said Sr Matthew Boynton to manifest his love to his so well deserveinge wife hath with his owne hand inscribed and caused to be errected this marble."
Matthew was the grandson of Thomas Boynton of Barmston -- and then Sizergh. Frances was the daughter of Henry Griffith. The Griffiths of Burton Agnes had, like the Boyntons, one of the ten largest land holdings in the East Riding of Yorkshire. Economy was certainly a part of this marriage. There was a pre-nuptial agreement that can be found at the archive at Hull University. It is three very large pages written in tiny hand. It spells out in detail what each side brought to the union. Frances came with a very handsome dowry. Eventually her brother died without heir and Frances' heirs inherited both the Boynton and the Griffith holdings -- uniting the two quite substantial fortunes. But that was long after Frances was dead.
Frances and Matthew were married in 1618 and she lived until 1634. They lived together only 16 years before she passed away. In the sixteen years they had twelve children, which suggests they took every opportunity to consummate their love.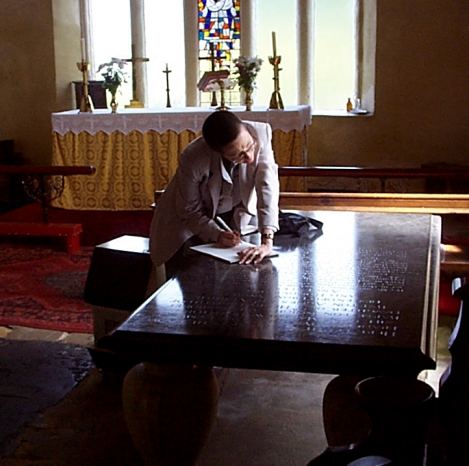 Anne Boynton at Roxby Church
When Frances died Matthew wrote his goodbye on a stone that stands over her grave in the church at Roxby. He wrote in the language available to him in his day.
Here lyeth the bodie of the Lady Frances Boynton sometymes wife of Sr Matthew Boynton of Barmston and Barronet, daughter of Sr Henry Griffith of Burton Agnes Knt a familie discended from ancient and honourable ancesters.
Her life much more remarkable for graces then for dayes Yet in that more then ordinarilye Abreviated tyme, her Prudent and Provident disposeing of all thinges Pertaining to the duty of her Sex As also in her indefatigable dilligence in the faithfull Education of her children was so conspicuously manifested That besides the good acceptance thereof which God testified to her in Anumorous Posteritie Shee had also hereby Ingraven soe deepe An Impression in the hearts of all that knew her Pious conversation That were it not that Mortalitie doth deface the memorie of thinges shee needed no other monument
shee dyed about ye 3d of July in ye yeare of her age 36 Anno Dni 1634
The said Sr Matthew Boynton to manifest his love to his so well deserveinge wife hath with his owne hand inscribed and caused to be errected this marble.
Some lines are graceful -- "Her life much more remarkable for graces then for dayes."
Some would have been graceful if not wordy and convoluted -- "Shee had also hereby ingraven soe deepe an impression in the hearts of all that knew her pious conversation that were it not for that mortalitie doth deface the memorie of thinges she needed no other monument."
Look beyond the language. Matthew was inscribing the stone -- himself. Someone must have said or he must have thought -- Matthew, you cannot do this. You have an estate to run. You have a dozen children to raise. You have the Commission of Peace and the other work of the realm. You could pay a good stone mason to carve this stone.
But nothing was as important as the final goodbye to his love.
The most poignant of the love stories is Cecily's. Cecily Strangeways married Thomas Boynton, the grandfather of the Thomas of Barmston and Sizergh. They had four children and then Thomas died. Thomas was 22 when he died in 1523, and Cecily must have been about the same age because she did not die until 1550. That left Cecily to raise the children and manage the estate in cooperation with her mother in law -- Margaret del See Boynton. She and Thomas had lived in Roxby, where he was buried. Apparently, she continued to live in Roxby, for she was also buried in Roxby. About Roxby: out of the way is an understatement. Down a narrow, winding road you arrive at a few farm houses, a church at the bend in the road and what is left of the manor house [A Boynton Place: Roxby]. It must have been a very lonely life for the lady of the manor who was still in her twenties.
Then another chance for love -- Josceline Percy. Josceline was the fourth son of Henry Percy, the fourth earl of Northumberland. He had married Margaret Frost, but she died in 1530. He and Cecily met. They loved. And the love was crushed -- we have only one line.
Josceline himself followed on September 8, 1532, having made his will the previous day, in which he leaves "to my dearly beloved contracted wife Cecily Boynton, the late wife of Thomas Boynton, esquire, my executor, the residue of my goods." (Walker, 1941)

She would have become Cecily Strangeways Boynton Percy except for this turn of fate. And there is reason to believe that fate was given a helping hand. William Percy, Josceline's brother, wrote Cromwell "accusing three of Josceline's servants and a maid, of having killed their master by poison, after inducing him to sign a will in their favour" [Brenan, p. 217-18].
And she lived alone -- two loves lost -- until her death in 1550.
It is hard to find love stories during this six hundred years. It is easy to find stories about marriage and economy. But they did quite a lot of marrying, which was the cruelty of inadequate health care and a warring culture. It would be most surprising if love was not there as it is here in our lives.
....
Brenan, Gerald (1902) A History of the House of Percy From the Earliest Times Down to the Present Century, vol. I, Freemantle, London, pp. 217-18.
English, Barbara (1990) The Great Landowners of East Yorkshire 1530-1910, Harvester, Wheatsheaf.

National Trust (2001) Sizergh Castle.
Walker, J. W. (1941) The Blackers of Blacker Near Worsborough and Crigglestone in the West Riding of the County of York, 1250-1650, The Yorkshire Archaeological Journal, pp. 247-248.