We only know the facts: her parents, her first husband, her second husband, her vow of chastity, and her gift to Marrick Priory. From those facts we try to catch a glimmer, an insight into the person about whom they are the facts. We weave the facts together to constitute a person. We know her as a person and especially as a grandmother [A Boynton Story: Corpus Christi 1498, Elizabeth de Boynton].
Agnes Scrope
Agnes grew up at Bolton Castle [Boynton Place: Bolton Castle]. Her great, great grandfather had spent most of the fourteenth century warring for one king or another -- and being rewarded handsomely by the kings. In 1378 he started building the castle at Bolton that his family would occupy until the seventeenth century.
Agnes' parents were Henry Scrope, fourth lord of Bolton, and Elizabeth. Henry Scrope was born in 1418. When he was two years old his father died, and the king commissioned Richard Neville to care for him and his family's fortune.
Sept. 19 1420 Before Meulan. Grant to the king's knight Richard Neville of the keeping of all castles, manors, lands and rents late of Richard Scrope of Bolton, knight, tenant in chief, during the minority of Henry his son and heir with the marriage of the latter without disparagement and all knights' fees, advowsons, reversions, escheats. remainders, views of fran pledge, mills, waters, fisheries, warrens, fairs, markets, passages, tolls, waifs, strays, infangthef, outfangthef, and all other liberties and franchises, without rendering anything to the king, provided that he find a competent maintenance for the heir, maintain all repairs and support all charges. [Calendar of Patent Rolls, p. 333-334]
Richard Neville was to be in charge of the Scrope family finances -- the knights fees, escheats, fairs, markets, tolls, and lots more -- and he did not have to share with the king as long as he did a competent job.
One of Neville's responsibilities was arranging the marriage of Henry Scrope, which he did by arranging for Henry to marry Elizabeth Scrope. At the time there were two Scrope families -- the Bolton Scropes and the Masham Scropes. Both were rich and powerful. Neville arranged for them to be joined in this marriage -- though she became the lady of Bolton and her brother became lord of Masham.
The first son of the marriage was John, who became the fifth lord of Bolton. He was born in 1435 when his parents were seventeen years old. Agnes had a second brother and a sister. The date of Agnes' birth is not known, but it was after 1435. Since her first son, Henry, was born in 1466 -- 31 years after 1435 -- she may well have been born as much as a decade after her older brother.
Bolton castle must have been a wonderful place to grow up. There were so many places to run and to hide. Then there were all the circular stairs that small feet could navigate better than larger feet. There were so many interesting things going on -- everything. There were graineries, and baking, a giant kitchen, and weapons manufacturing, there was a jail, there were cows and sheep and gardens. And there were people to care for your needs. When you look at the castle it is very imposing; however, from the inside it looks like a small child's delight [A Boynton Story: A Visit to Northwest Yorkshire].
Agnes Scrope Boynton
Agnes Scrope married Christopher Boynton. We do not know exactly when -- though if their first son was born in 1466 it was probably not many years before that. We do not know exactly why.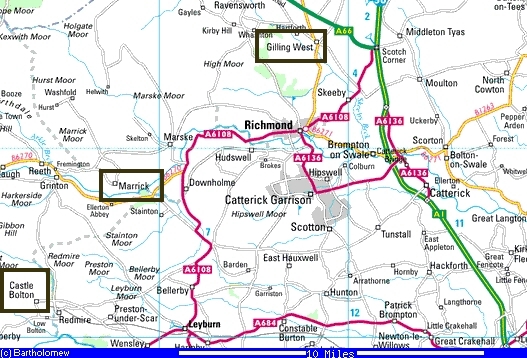 There are two considerations to keep in mind when thinking about the why. First, this was a tiny community. There were only two to three hundred families in Yorkshire with wealth. While they were scattered over England's largest shire it is clear that they interacted very regularly. The Scropes would know the Boyntons. It was an even tinier community than that -- for them. The Christopher Boyntons were centered at Sedbury. And Agnes lived at Bolton Castle. The map shows the locations of Castle Bolton in the bottom, left corner. Sedbury is a manor only four miles from Gilling West. The legend is for ten miles. The Boyntons and the Scropes lived about twenty miles apart. It was a rather difficult twenty miles. You had to cross a couple of moors -- arid hills. But with the market town of Richmond in between them they were living quite close as close was measured in the fifteenth century.
The second consideration is the Neville connection. Ralph Neville, the first earl of Westmoreland, took Christopher Boynton -- the father of this Christopher Boynton -- under his wing when Christopher's father died and his brother lost his head in an insurrection. The two were on many commissions together, and Christopher Boynton was the executor of Ralph Neville's will when he died. The Boynton-Neville connection continued after Ralph Neville's death. One of his sons, Robert Neville, became bishop of Durham, and he had Christopher Boynton on all of the boards he appointed to manage his county. Christopher -- the father -- was interacting with all of the Nevilles on a regular basis. Ralph Neville had done the same for Agnes' grandfather. Her grandfather's father died when he was only eleven. Ralph Neville was commissioned to care for him until he reached adulthood. Then the same happened with her father. He was left fatherless at two. And a son of Ralph Neville was commissioned to care for her father. The Boyntons and the Scropes were both much a part of the Neville community.
Two answers to why are: 1) proximity; and 2) social connections. Neither guarantees marriage. But both make it easier.
An equally interesting question is -- Who? This was an age in which parents arranged marriages for their children. Normally, one supposes, the arrangements were made by fathers -- at least the formal arrangements. However, Christopher, the father of Christopher, died in 1451. Henry Scrope, the father of Agnes, died in 1459. The first son of Christopher and Agnes was born in 1466. If they married about two years before the birth of their son, then both fathers would no longer have been living. It must have been the mothers -- Joan Boynton and Elizabeth Scrope -- who arranged the marriage.
Agnes was a child of a wealthy family. However, her brother was in line ahead of her; there was very little family fortune for her. Her quality of life was largely dependent on the wealth of the man she married. Christopher was comfortably wealthy -- though not as wealthy as her family. Christopher's father had had a particularly successful career as a public lawyer -- working for the king, for the bishop of Durham, and the city of York as well as for private clients. He started as a second son without much inheritance, but managed to accumulate a very nice fortune. Christopher was the heir of the family wealth, and he set about managing it. According to the Victoria History of the North Riding one of the transactions involved in managing the Boynton land holdings was a trade that he and Agnes made with her cousin.
Christopher and Agnes in 1468 made an agreement with John Lord Scrope of Masham by which they granted lands in Easby and Newton to St. Agatha's Abbey and received in return all the lands of the abbey north of Gilling Beck towards Sedbury [Page, 1914].
They were consolidating their land holdings around Sedbury.

Agnes and Christopher had two sons. Henry was the older and heir to Sedbury manor and the family fortune. John was the second son; he moved away -- probably to Killerby, which is where his son was living in the next century [Clay, 1895]. There is, as noted in the biography of the first Christopher, considerable confusion about the family. The clearest statement referring to Henry and John as brothers is in Joan Boynton's will of 1489. She did not refer to Christopher, her son, in the will because he had died fifteen years earlier. She did mention Agnes: "I gyve to my doughter, Dame Agnes Ratclyff, j payr of beedes of golde" [Raine, 1869]. While she refers to Agnes as her daughter, that clearly is a broad use of 'daughter;' Agnes was her daughter in law. She gave Agnes a gold necklace -- one pair of beads of gold. And she mentioned Henry and John: "Item to Herry Boynton of Sadbere x marc. Also to John Boynton, his broder, x marc" [Raine, 1869]. They both received ten marcs from their grandmother.
Then Christopher died, and Agnes was a widow.
Agnes Scrope Boynton Ratcliffe
From 1460 to 1485 politics was particularly bloody -- especially in the North of England. There was fighting between the king's men and fighting between the king's men and the king. It is called the wars of the roses, and Agnes was living right in the middle of it [Pollard, 1990, chapters 12 and 13].
Edward IV and the Nevilles of Middleham smashed Henry VI and the Percies at Towton in 1461. Edward became king, and he showered land and offices on the Nevilles. At that point the Nevilles completely dominated the north. It did not take very long, however, for Neville to turn on the king. The result was insurrection on a regular basis with Neville in the lead and the Scrope boys -- Agnes' brother and cousin -- acting as two of his chief lieutenants. Neville died on the battlefield in 1471 in, yet, one more insurrection against the king. And the king decided to divide the Neville lands and offices between his brothers: the dukes of Gloucester and Clarence. That led to several years of squabbling as they settled differences over who was to get what.
Richard of Gloucester had lived with the Nevilles as a teenager, and he knew all of the families who had sided with Neville. When he took the land he worked assiduously to also take the men. And the Scropes became staunch allies. Richard also brought new men onto the scene -- one of whom was Richard Ratcliffe. Richard Ratcliffe was a widower. He and widow Agnes Scrope Boynton married joining old stature [the Scrope family], new wealth [the Boynton land holdings] and new stature [compliments of Richard of Gloucester]. From that point Richard was known as Ratcliffe of Sedbury.
The Radcliffe family held land in Durham and in the northwest [Surtees, 1816]. He had a son and two daughters by his previous marriage -- though neither Surtees nor anyone else identifies the previous wife. The children must have been of the previous marriage, however. In 1483-84 there was a wedding.
1483-4, Jan. 10. Licence to the abbat of St. Agatha and the curate of the church of Gilling to marry Edward Musgrave and Alice Ratcliff in the chapel within the manor-house of Sir Richard Ratcliff at Sedbury. [vol. III, 1865]
While we do not know exactly when Agnes and Richard married they had not been married long enough at that point to have a daughter old enough to marry. The daughter must have been his daughter by a previous marriage. He had a son, Richard, who was his heir, and a daughter Isabella who married Roger Lumley, the second son of Sir George Lumley.
By 1475 Ratcliffe was already closely connected with Gloucester. Gloucester put him in charge of the castle at Barnard, the ownership of which was hotly contested between Gloucester, his brother and the bishop of Durham. The reach of Gloucester's holdings and offices grew as he served the people of the north. Then Edward IV died leaving two young sons. Gloucester became their protectors, and he protected them to death. Richard of Gloucester became Richard III. Off they went to London. Ratcliffe had a major role in the coronation. Richard III rewarded him with land, offices and honors. He was one of the kings closest advisors.
Richard III may have been the king the north wanted, but the rest of the country was not enthralled. In 1485 Richard lost the battle at Bosworth field. Ratcliffe was killed fighting at his side. Henry VII became king, and Agnes was pardoned [A Boynton Story: The King's Pardon].
Nov. 19 1486. Westminister. General pardon to Agnes Ratclif, widow, alias late the wife of Richard Ratclif, knight. [Lyte, 1914]
In the first year after Henry VII became king the Calendar of Patent Rolls list approximately 50 pardons. Agnes is the only woman among those pardoned.
It had been less than ten years, but Agnes had been as centrally involved the politics of the country as almost anyone. First as wife of Ratcliffe in Yorkshire and the north. Then as his wife in London. She had been on the inside of the most important movements of her time.
Agnes
"That's it. I've had it with men. I am going to be my own person from here on." [A Boynton Story: Women's Liberation in the Late Fifteenth Century.] We do not know if Agnes said that, but we do know that those were her actions. Richard Ratcliffe was dead. She returned to the north -- back to Sedbury. And she took the veil. She had a landed estate to run, and she had children whose marriages had to be arranged. And she did not need help from a third husband. She would do it herself.
For about a decade she managed the family land holdings including making making a deal with the Lumleys.
68. 12 Oct. 3 Henry VII (1487) Grant (indented) by Bertram Lumely to Agnes Radclyff, widow, of a mill and close adjacent in Lameseledale, now in the tenure of Nicholas Turpyn, at a yearly rent of 13s. 4d. Grantor to re-enter at any time upon payment of 20 marks to grantee. Appointment of George Lumely, brother of grantor, as his attorney to deliver seisin. [Hunter, 1939]
She made one last foray into politics. The northerners thought that the people of England were even unhappier with Henry VII than they had been with Richard III. There was one other candidate to be king, and the Scrope boys and Agnes helped lead the charge [Pollard, p. 376]. But it was an abortive attempt. And Agnes retired from politics.
Henry, her first son, was knighted in 1497. He married Isabel Lumley in 1498. Her father died almost immediately bringing Ravensworth castle and land into the Boynton family fortune. And Henry took his mother, Agnes, and his new wife to York to join the Corpus Christi Guild [Skaife, p. 148].
The land settled. Her son married with a granddaughter on the way. Agnes could turn her attention to religion.
Marrick was just over the hill; it was just over two hills [A Boynton Place: Marrick Priory]. It was just over the hill from Sedbury and it was just over the hill from Bolton Castle. It was about half way between the two principal homes of her life; see the above map. Many of the hills were quite arid, but not Marrick. It was nestled into the side of the hill and looked out over its own valley, which was green. It was a small priory with only a few nuns and enough staff to provide life and limb for the nuns. It was isolated; even the village was a couple of miles away. And Agnes took up its cause.
What we know is the book; the rest is speculative. The book was The Dream of the Pilgrimage. These are its first lines.
As I lay in a Seint Laurence nyght slepynge in bed, me bifel a ful mervaylous dreme which I shal reherse. Me thought that I hadde longe tyme trauailed toward the holy cite of Ierusalem and that I hadde made an ende and fully finished by flesshly pilgrimage, so that I myght no ferther trauayle vpon my food, but nede muste I leue behynde me my flesshly careyne.
It was a dream that became a pilgrimage.
It had belonged to her father, and he gave it to her. Books were scarce. This book was produced before Gutenberg, though just barely. Its printing press was human hands. It could take hundreds of hours to produce a book. Carefully the words were copied and illustrations were added. Her uncle had had a similarly produced book -- though a different story. Books were scarce; books were valuable. Only the rich could own books. Agnes gave her book to Marrick priory. Her daughter in law inscribed it.
Here beginnith the boke cald Grace Dieu giffen unto the Monestarye of Marrik by Dames Agnes Radcliff onn whose sowl Ihesu haue mercye. Amen. Per me Isabell Lumley. [McGerr, p. lxxx]
The book is now in the New York City Public Library, and it has been described in detail in a recent critical edition [Description].
Joan, Christopher's mother, was lord of the manor after her husband died, but when Christopher and Agnes married she left Sedbury within a few years. She went back to her Yarm, which had been her home. McGerr wrote that Agnes took her vows at Marrick priory. James Raine wrote that many of the women who took vows of chastity moved to priories to live out their lives. Perhaps, that is what Agnes did. She had lived a full, exciting life with many ups and downs -- many triumphs and many sorrows. Now she could retire to ponder all that had been her life.
.....
Calendar of the Patent Rolls, Henry V., vol. II, A.D. 1416-1422. (1911) published by His Majesty's Stationery Office.
Blair, C. H. Hunter (1939) Archaeologia Aeliana, for Society of Antiquaries of Newcastle Upon Tyne, pp. 64-65.
Clay, John W., ed. (1895) Hunter, Joseph Familiae Minorum Gentium, published by the Harleian Society, vol. 38.
Lyte, H.C. Maxwell, ed. (1914) Calendar of Patent Rolls Henry VII, A.D. 1485-1494, vol. I, for his Majesty's Stationery Office, p. 35.
McGerr, Rosemarie Potz, ed. (1990), The Pilgrimage of the Soul; A Critical Edition of the Middle English Dream Vision, Garland Publishing, pp. lxxx-lxxxiv.
Page, William, ed. (1914) The Victoria History of the County of York: North Riding, Volume One, reprinted by Dawsons of Pall Mall, pp. 79-80.
Pollard, A. J. (1990) North-Eastern England During the Wars of the Roses; Lay Society, War, and Politics 1450-1500, Clarendon Press, Oxford.
Testamenta Eboracensia; A Selection of Wills from the Registry at York, vol. III., Publication of the Surtees Society, no. 45, 1865, p. 348.
Raine, J., ed. (1869) Testamenta Eboracensia, A Selection of Wills from the Registry at York, Vol. IV., Publication of the Surtees Society, pp. 13-15.
Skaife, Robert H. (1872) The Register of the Guild of Corpus Christi in the City of York, Surtees Society vol. 57.
Surtees, Robert (1816) The History and Antiquities of the County Palatine of Durham, vol. I, London, p. 32
June, 2002 G. R. Boynton